Drupal consulting for WAN-IFRA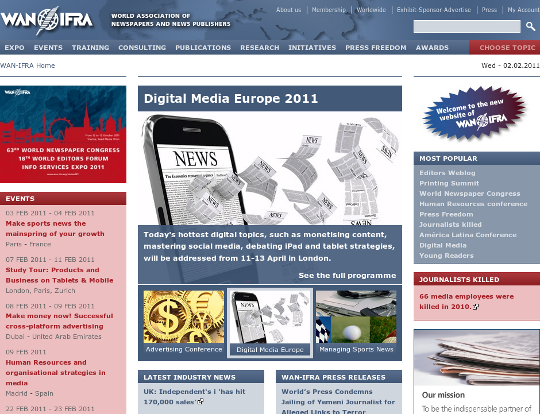 Soft launch: The website of WAN-IFRA - World Association of Newspapers and News Publishers went online in January 2011!
The Drupal service provider Berger Schmidt - Praktische Informatik, with offices in Darmstadt and Karlsruhe, supports the international organization with Drupal consulting and web programming, and during planning and development works closely together with the departments of WAN-IFRA.
Background
The merger of the World Association of Newspapers (WAN) and the Research and Service Organization for the Newspaper Industry IFRA in July 2009, created the global organization WAN-IFRA - World Association of Newspapers and News Publishers.
As a professional association, the organization deals with all aspects of newspaper and news production (press freedom, quality journalism, business and technology etc.) and offers a wide range of initiatives, conferences, training and research.
The WAN-IFRA represents more than 18,000 publications, 15,000 online media and about 3,000 companies in over 120 countries.
The Project
Since 2008, Berger Schmidt has been working on the web projects of WAN-IFRA (initially IFRA). 2009 the site ifra.net was launched, based upon the content management system Drupal. Alongside articles, blogs and microsites this site also contains the Suppliers Guides, an index of suppliers.
Following the launch of the site IFRA Expo with integrated Expo Catalogue and based on the current system (LAMP, Drupal 6) in September 2010, the corporate website WAN-IFRA went online in January 2011. It includes events, micro sites and topics and connects to the Back Office Lotus Notes via Lotus-Notes-Agents and Drupal modules.
The Concept
In Drupal we use 1. "nodes for content" and 2. "nodes for content management". The editors can for instance create ads, articles, events, press releases and relate them to microsites and topics.
While topics follow a strict structure for publishing on specific issues (think ressorts), microsites are very flexible for example when mapping events and trainings, publications, initiatives, or awards.
The rendering of "pages" is accomplished with the Drupal modules Context, Views and Panels. More features are built with an assortment of about 30 modules from the Drupal community (Ad, CCK, Contemplate, CTools WYSIWYG ... etc.), 10 custom modules (connection to Lotus Notes, Search, GUI, etc.) and various external libraries (ImageMagick , PHPExcel, Zend Gdata etc.).
Link